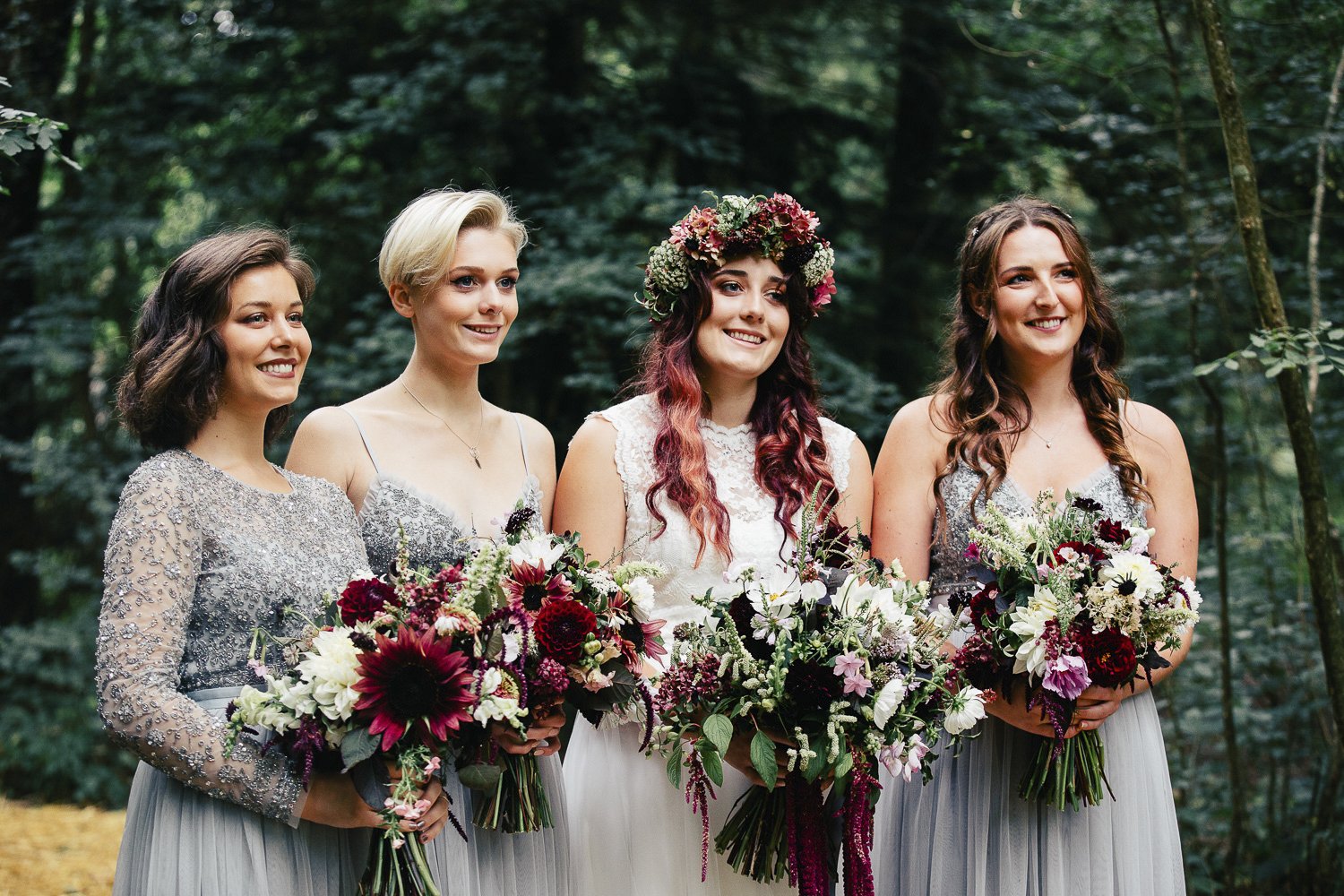 We want wildflowers for our wedding. Can you help? Rustic, wild and informal is very much our style, though all of our flowers have been grown especially for cutting. Many are native species, so would be called 'wild' if growing in a meadow or verge. Others are classic 'garden flowers'. Most of the flowers we grow cannot be bought from a wholesaler or high street florist — so you can rest assured that they will stand out and be noticed for all the right reasons.
What if you run out of flowers? We have another flower plot which is not open to the public, so that we always have plenty of flowers for our wedding customers.
Do seasonal, 'country garden' flowers last? Yes. All of our flowers have been grown especially for cutting and by picking them fresh and straight into water, they will last for your wedding day and for many days after. Unlike imported flowers which may be 2 weeks old, our flowers will only ever have been picked 2-3 days before your wedding, stood in water overnight, so they are at optimum freshness when arranged.
What makes Blooming Green's flowers so special? We grow a wide range of beautiful seasonal flowers which we have carefully selected for their colour, shape and interest. They are hand-grown, hand-tended and hand-picked as well as being organic, seasonal and unique.
Can we request specific flowers and shades? We can't always guarantee specific blooms, though we are confident that we can provide many of your favourites and work to your colour scheme and 'look'. What we can guarantee is that your flowers will be beautiful, seasonal and distinctive. They will also have the scent that is so often missing from mass-produced blooms.
How do we place our order? Once you have made you initial inquiry and received our price list and FAQs, we would choose a mutually convenient date for your consultation. If you would like to book our services / a specific date before having consultation, we ask for a £100 non-refundable deposit. After your consultation (usually in the spring of your wedding year) we will come up with a quote, and once this is agreed we ask for a 50% deposit with the remainder at least one week before your wedding.
Can we change our order, once we have accepted Blooming Green's quote and paid our 50% deposit? Yes. People often change their mind in the run up to their wedding. We are happy to make adjustments, though the more notice we have, the better. Two adjustments / changes are included, without charge. After that, changes will be charged at £35 per re-invoice.
Do you deliver? Yes. We charge a minimum of £40, plus £1 each way for every mile over 15 miles. Ideally, we would deliver the afternoon / evening before your wedding, eg, Friday. Weekend deliveries are charged at double the rate.
Can you provide our church and / or reception flowers? Yes, we'd love to help. With our bespoke service we can provide all of your flower arrangements. If, however, you would like us to provide buckets of flowers for the church flower ladies to arrange, we are happy to pick complementary flowers, in keeping with all of your other arrangements.
What is the difference between Bespoke Wedding Flowers and Affordable Wedding Flowers? Our Bespoke Wedding Flowers option includes an hour's consultation with Jen where you can bring photos and fabric samples and 'fine tune' the look of your wedding. If helpful, we can come and visit your wedding venue so that we can plan set-up and delivery and create flower arrangements that work perfectly in situ. Alternatively, our Simply seasonal wedding flowers can be ordered online, via our website, and the service does not include a consultation. You can choose a colour scheme and collection time when you order. Affordable Wedding Flowers are collection only. Visit the Simply seasonal wedding flowers page on our website for more information.