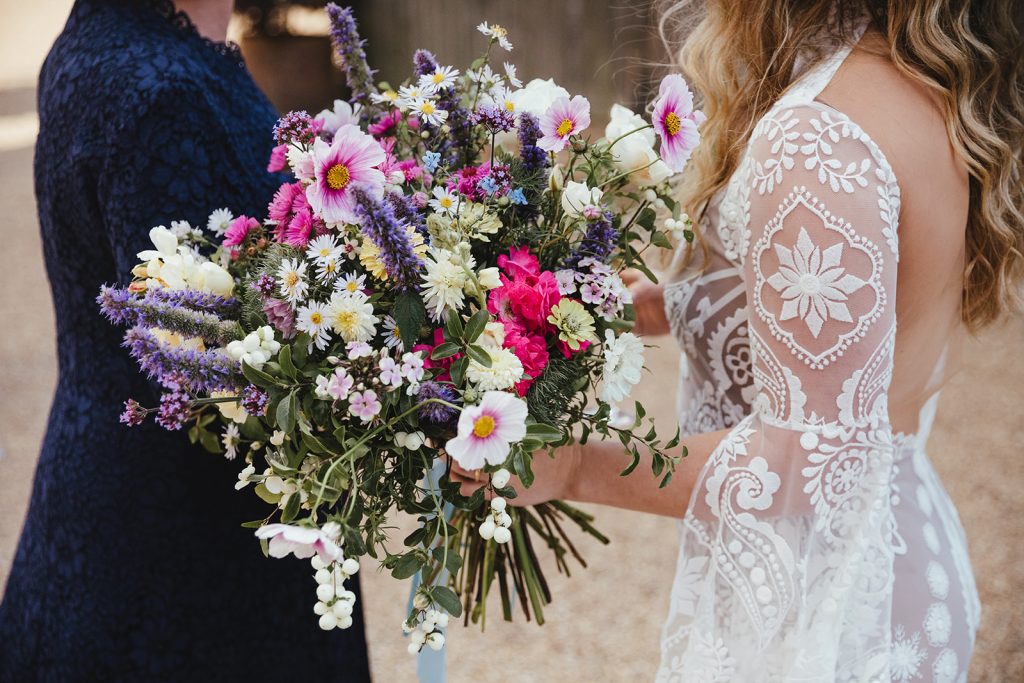 The wedding flowers of your dreams…
We've always prided ourselves on catering for every budget and being able to give someone – who may not have a huge amount to spend – the wedding flowers of their dreams. At the moment, this feels all the more important than usual, as many couples are feeling the pinch. The way we work, and the options available, mean that you can make your money go further, whether you opt for 'pick-your-own' wedding flowers or Simply Seasonal (which we used to call Affordable Wedding Flowers).
A few top money-saving tips (for nothing)
Move floral arrangements from the church / ceremony area to enjoy at the reception. Ushers & groomsmen should be able to assist!
Enlist creative family and friends to arrange PYO flowers at the reception.
Buy jam jars and pretty jars online, via Wholesalers such as Wares of Knutsford. These can be given away with the flowers as wedding favours
Forage greenery from friends' and family gardens — or your own — to use with your PYO flowers
Place the bride's and bridesmaids flowers in jars or vases along the top table to act as decorations in their own right
Pick Your own offers a unique experience with family and friends…
Pick-your-own will provide the greatest quantity of flowers… 'more bang for your buck' to use a horrible expression! But the added value is the fun and enjoyment you will have, coming to pick with friends and family, and also the chance to get creative with your flower booty. If you need a bit of guidance, we offer a number of workshops to help you make the most of your flowers, including our ever-popular Hand-Tied Bouquet Workshop or the more comprehensive: DIY Wedding Flowers; stunning flowers on a Budget. Then there's our array of sustainable floristry courses… if being green is also an important part of your wedding.
Or try our Simply Seasonal, for the best of both worlds…
If you need a little more than some friendly hand-holding and you'd rather we took care of the more tricky items, such as bouquets and buttonhole, then our Simply Seasonal Wedding Flowers could ideal – with a little PYO on the side, if you don't' want to miss out on all the fun. The simplicity and minimal stress of Simply Seasonal is what makes it so perfect… and because it cuts out lots of the admin for us, we can offer amazing flowers for less money – but without any sense of being 'budget' or compromising on the look of your wedding flowers. Simply Seasonal really can be the best of both worlds – both pick-your-own and bouquets and other items that look 'top-notch' but without the top-end price tag.
Special offer in January…
And, as it that's not tempting enough, we have a special offer in January, where if you spend over £500 on Simply Seasonal Flowers, we'll give you two PYO Vouchers worth £50 (the perfect thank-you gift for in-laws / bridesmaids). Anyway, enough of this wedding chat… If it's not to late, Happy New Year!
Photo credit: Matilda Delves Photography – www.matildadelvesweddingphotography.com